A Note from Me: This happened in May. I wrote up the draft, and then never came back to publish it. Mostly because I suck at his blogging thing. Partially because the fibro fog causes me to more scatterbrained than I used to be. In any case, the story still made me laugh, so I'm publishing today. :) And don't let the cute picture fool you. He's still a menace. :P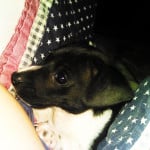 A couple months ago, my boyfriend got a puppy. The puppy is cute and playful and funny…until he's not. I've taken to calling him Menace.
And so the series of unfortunate events went something like this…
Normally we eat dinner at the table, but last night I decided we'd catch up on Law & Order SVU while we ate from the couch.
I put my plate down on the end table to go grab something from the kitchen. Boyfriend was still sitting on the couch so I assumed my dinner would be safe.
Boyfriend didn't realize I left my plate sitting there and took the opportunity to go get him a drink while I had the show paused.
When I got back, the puppy had snagged my chicken. I yelled.
When I yelled Boyfriend spun around to see what happened.
He was in the middle of taking something out of the fridge at the time. When he turned from the fridge, he knocked my tea pitcher out and onto the floor.
The top popped off the pitcher and tea spilled on the floor.
When I went stomping across the kitchen to lock the puppy in the bedroom, I didn't see the spilled tea and slipped.
Thankfully, I didn't fall, but I sure was sore for a while. This morning my knee is still tender, but overall I'm doing pretty well. I was so afraid it would cause a horrible fibro flare. That's one of the really irritating things about fibromyalgia. You can have something happen here and it ends up hurting there…and there…and there…and oh yeah, there as well. Within minutes I had a horrible headache, my neck was pinched, and my arms ached, not to mention the knee and back pain from the slip itself twisting me all around.