When you choose to have a child you make an unconscious decision to allow your heart to walk around outside your body.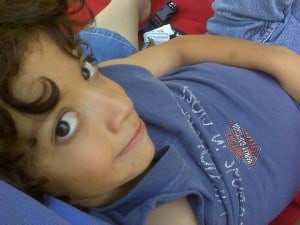 Dear Andrew,
Today you turned 10 years old. Time goes so fast that it's hard to believe. I loved you from the moment I knew I was pregnant. I knew I would die for you, and I still would. I didn't know it was possible, but the minute you were born, I fell in love some more.
Do you remember when we went to Walmart this morning to buy the last minute party items? You went to get us a cart and a lady was struggling to get two carts apart that were stuck together. You figured out why they were stuck and helped her get them apart. Then as you started to take the other cart for us, another lady came up to grab a cart. You gave her yours and went to get another one. I was so proud of you. When she walked by and told me what a polite young man you were and that I was doing a great job raising you, I fought back tears.
You have brought me so much joy these ten years. I pray we always have the awesome connection and relationship we share now. I know it isn't always perfect, but at the end of the day it's you and me kid.
I saw this on somebody's Facebook status the other day. I borrowed it and posted it to your wall. I wanted to include it here too so that someday you can come back and read my blog and read how much you mean to me.
I made mistakes being a mom, sometimes more than I'd like to admit; but I will always be there for you, to hear you, to cheer you, to laugh or cry with you, to protect you with my life, & sometimes tell you things you don't want to hear. I will love you for eternity with all my heart. No one will ever love you more than I do, I'm your Mom!
You truly are the love of my life, Andrew. Never, ever forget that.
Love, Mom