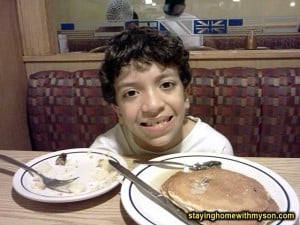 Andrew and I have long enjoyed IHOP's free pancake night. We used to go every year when we lived in Utah. The Layton, Utah IHOP donated to Primary Children's Hospital in Salt Lake City as their charity for free pancake night. It was always important to me, and kind of emotional, to support anything that donated to Primary Children's due to the fact that they saved Andrew's life when he was about nine months old.
Last year we missed out on Free Pancake Night because we were in Georgia after the death of my sister, and basically forgot about it. Well this year, I made sure to plan for it. We had Andrew's first Cub Scout Pinewood Derby this evening, so we celebrated his second place win with free pancakes at IHOP afterward.
Let me say this was not my first time at the Adel, GA IHOP. I'll be honest, the experience has never been a great one and always makes me wish we were back in Layton. Tonight was no different.
First of all we pull in to a full parking lot. I expected that as free pancake night is usually pretty popular so that wasn't a big deal. We walked in and the first thing we saw was a pretty good sized line of people waiting to be seated. We noticed that another Cub Scout family was second in the line. We said hi and chatted for a moment. A few minutes later they ended up leaving. They said they'd been waiting for more than ten minutes. They actually gave up just a few seconds too soon because I'm guessing they weren't even out of the parking lot yet when the people behind them were seated and then Andrew and me.
We ordered fairly quickly from our friendly, yet obviously overwhelmed, waitress since we already knew what we wanted. Free pancakes with a side of sausage for both of us, and a side of hash-browns for Andrew. We also ordered a couple of drinks. We would have stuck with water if I had realized they were going to charge us more than $2 each for our drinks. Including Andrew's which they brought to him in tiny coffee-sized Styrofoam cup. Ack!
As we were waiting, I noticed our table was slightly sticky from not being properly wiped down after the last guest. When our food arrived, we sat there a minute trying to figure out what was missing. Oh I know! The silverware. Which we had to wait several minutes to ask for. As Andrew dug into his food he noticed his sausage patty tasted weird. He flipped it over to find that both pieces were undercooked on the bottom side. Again, we had to flag down the waitress. While we were waiting for his sausage, she asked me if I'd like more tea. I said yes, but didn't end up drinking it since she refilled with with sweet tea when I had ordered unsweet.
When she eventually brought the sausage back, this time they were overcooked. I guess in the light of things, overcooked is better than undercooked, but I was seriously having issues at this point. At first I thought they put on his original sausages and so the edges got overcooked, but then I realized they weren't the same sausages so not sure why they ended up overcooked.
We finished eating and ended up with a to go box for Andrew's food. As we got up to leave, I noticed a fork and napkin under our table. At first I thought Andrew dropped his, as I asked him to pick them up I noticed his and mine were still on the table which means they were left there from the last guests.
Overall, this wasn't a great dining out experience. Thankfully the pancakes were good, the company and conversation were good, and it was for a good cause. But I'm pretty sure we won't be visiting the Adel IHOP again any time soon, free pancakes or not.