In June 2011, a really good friend gave me the Heavenly Full-Size Warmer and a scent bar from Scentsy. It took me about as long as it took for the first couple of blocks of the scent bar to melt and release it's incredible smell for me to be hooked. Not only are the scents great, but I love that I don't have to have a flame burning to achieve it. I've purchased several scents over the many months since, and I finally decided it was time to join the fun. I'm looking forward to this new adventure.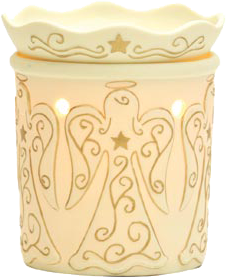 I am currently taking orders for my Launch Party. If you can, I'd love for you to support me by ordering an item or two. If your local and not in a hurry for your items, you can have it shipped to the consultant (that's me!) and I'll bring it to you. If you're not local, you can still order from my Launch Party by choosing to have it shipped directly to you.
Be sure to choose "Launch Party" on the left hand side of the site under "My Open Parties" before you order or just go to singlewahm.scentsy.us/Buy?partyId=73483671 and start shopping. Be sure to let me know if you have any questions. And if you don't already have a Scentsy consultant, you can sign up for the newsletter from my website.
Last, but certainly not least, if you want to hold a party to earn some great free stuff, let me know. We have several options available, even if you're not local to me.
Thanks and have a blessed day!
Shannon