(StatePoint) If you're watching your pocketbook these days, as many people are, you may be searching for affordable ways to celebrate Mom this Mother's Day, May 13.
The good news is thoughtfulness doesn't need to cost a fortune.
You can show you really care by taking the time to personalize your Mother's Day activities and gifts. Here are some unique ideas that meet a wide range of budgets:
Food
You've probably been treated to many special home-cooked meals by Mom. Now it's time to reciprocate. Instead of taking mom out on Mother's Day, where many restaurants jack up their prices by offering a prix-fixe menu, prepare a special meal yourself. Remember, the day is about your mom, so plan the menu around all her favorite dishes. Offer to cook for her at her house so she doesn't need to lift a finger.
Gifts
Don't just opt for a trite box of chocolates or generic gift you find in the first store you visit. These days, you can find personalized gifts that truly match Mom's unique personality.
"You can surprise and delight someone most with a personalized gift, since there is nothing more unique," says Mariam Naficy, CEO of Minted.com, an online stationery store.
Personalized stationery sets make great affordable gifts for mom. Remember, the stationery a woman uses speaks volumes about her. Find something just right by browsing the selection of colors and styles on an online stationery store. For example, Minted.com carries a wide selection of unique customizable designs.
You might also consider giving the gift of self-expression with a personalized journal. Make the journal truly hers before she ever sets pen to paper by including meaningful photos and inscriptions on its cover and interior.
Flowers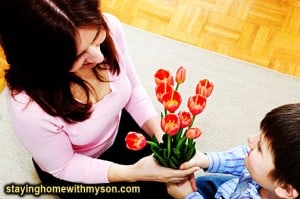 For a traditional flair, think flowers this Mother's Day. But rather than coughing up a pretty penny buying a standard issue store-bought arrangement, take your mother on a nature walk to pick wildflowers. Not only will you get to spend a great spring day together outside, you can create a unique bouquet at home using flowers she picked herself.
When showing Mom you care this Mother's Day, don't let your budget hold you back. Thoughtfulness and thriftiness can go hand in hand to make the day extra special.