Today's quick and easy and affordable dinner option was chili. I had SEVERAL cans of different types of beans so I threw them together for a quick chili. Most of the children like chili so it worked out pretty well. The two youngest complained about the tomato chunks, but they ate it.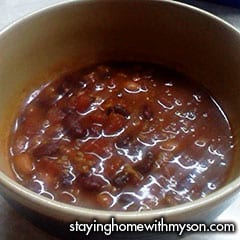 For the corn muffins I made the basic muffin recipe found here and added two boxes of Jiffy Corn Mix.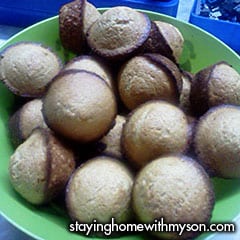 Quick and Easy Chili
I listed the canned beans I happened to have on hand, but you can use any variety of what you have available.
Ingredients
1 can pinto beans
1 can kidney beans
1 can black beans
1 can Hunts chili tomatoes
1 large can diced tomatoes
1 T onion powder
1 T garlic powder
1 T oregano
1 T Sirachi
Instructions
Mix all together and simmer. I put mine in the slow cooker for four or five hours.
Optional: Serve with corn muffins