I only recommend products I would use myself and all opinions expressed are my own. This post may contain affiliate links that, at no additional cost to you, I may earn a small commission on. Read my full disclosure here.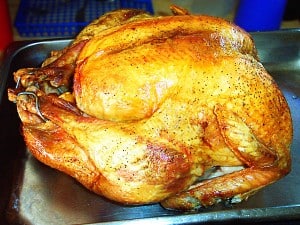 by Jill Cooper
www.LivingOnADime.com
Thanksgiving can be a great opportunity to enjoy time with family and friends, but it's easy to get overwhelmed at the thought of everything that you need to do. By making some simple changes to the way you approach some of the Thanksgiving preparation, you can save time and money and spend more time enjoying Thanksgiving and less time dreading it! Here are a few tips to help you make this Thanksgiving more fun and less stressful!
Larger turkeys are usually less expensive, so buy the largest one you can. If you have a small family, ask the butcher to cut your turkey in half and wrap each half separately. Then you can freeze half and save it for later so you won't have weeks of Thanksgiving leftovers. Half a turkey is also much easier to handle and prepare for roasting. Just wrap the other half and freeze it to use for Christmas.
I've often made ham for Christmas just because by Christmas we are so sick of turkey that we don't want to think of preparing another one – ever! If there are fewer leftovers after Thanksgiving, your family might not mind having turkey again. Then you would have one less thing to buy for Christmas dinner.
If you still don't want to have turkey at Christmas, save it for some cold day in January. If you have a large enough crockpot, cook the turkey in the crockpot. If not, cook it on very low in the oven so that it slow cooks all day. It is amazingly delightful it is to come home to the yummy smell of slow cooked turkey!
Save money by making your own pies instead of buying the expensive pre-made ones. If the thought of making pie crust is too daunting, just buy a ready made crust. They are usually on sale for very little around Thanksgiving.
It really isn't that difficult to make the filling for most pies. Pies are often easier to make than cakes or cookies. If you like the traditional pumpkin pie, most cans of pumpkin have the recipe on the back.
If your family and friends aren't fussy about having the traditional pumpkin pie, you can make banana cream, chocolate, or butterscotch pie. Just mix a box of banana pudding and pour it into a baked pie crust. Cover it with sliced bananas and whipped topping. For the chocolate pie, use chocolate pudding with chocolate chips in it and cover it with whipped topping. For the butterscotch, use butterscotch pudding and whipped topping and sprinkle with butterscotch chips.
You don't have to make so many pies that you could open a bakery. I have found that most kids are just as happy with a platter of cookies. Don't overdo it. You'll just wear yourself out! If you have time, make the cookies in the shapes of pumpkins and turkeys.
Save on your relish dish. Buying ingredients for a relish dish can get expensive, especially where we live. One year I paid more for my relish dish items than my turkey. If you have this problem, only use 3 or 4 vegetables on the relish dish instead of 10 and cut out on the more expensive vegetables. Broccoli and cauliflower are very high priced for us so, if I needed to save, I would probably use carrots and celery. Fill the celery with cheese or peanut butter or cut them into fancy shapes. On this occasion, the turkey is the star and most people won't even notice that you cut back on the relish dish.
Don't make so many side dishes. Like I said, the turkey, gravy and mashed potatoes are more important than everything else. By the time everyone stuffs themselves on those, they only eat a token amount of the side dishes. Why? Because, of course, everyone wants to save room for dessert!!!!!
Jill Cooper and Tawra Kellam are frugal living experts and the authors of the Dining On A Dime Cookbook. Dining On A Dime will help you save money on groceries and get out of debt by cooking quick and simple homemade meals. For free tips & recipes visit www.LivingOnADime.com , sign up for our free Living On A Dime Newsletter and learn to save more!
Note from Shannon: The tips and ideas in this story are the types of things that are found in the Dining On a Dime Cookbook. I own this cookbook in the printed version and it quickly became a must have and my favorite go to cookbook. Check out the PDF version and download your copy today.