The other night I was tired and wasn't feeling well. I had to run into town to cash my child support check so it was easy to get talked into McDonald's for dinner. While Andrew usually chooses chocolate milk with his Happy Meal, this particular night he chose apple juice.
I can only guess that they've been teaching him about reading labels at school because he lets me know that label says it has 0% fat. He then embarks on a 10 minute discussion on how that means it's good for you.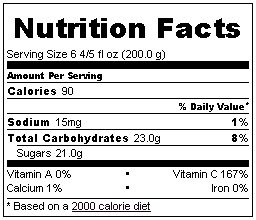 As he continues reading the label and letting me know what the rest of the percentages are, he suddenly exclaims, "Mom! This apple juice is what makes me bounce off the walls at night! It has sugar in it!"
He cracks me up. The really funny thing is he hardly ever has apple juice, or juice of any kind for that matter. He actually drinks mostly water with the occasional glass of milk (especially chocolate milk) and maybe a soda once in a great while when we do resort to the fast food thing.
So let's pretend he has apple juice roughly once a month. That leaves 353 days he is not drinking apple juice. If you have any idea what is making him bounce off the walls those nights, I'm all ears. For now, I'm cutting out the apple juice. :)