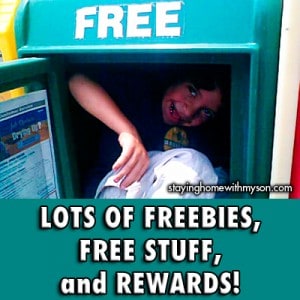 Here is a list of freebies and rewards programs I have found. I will be adding and subtracting from this list as time goes on so check back often.
Please note that it is HIGHLY unlikely that you will get rich off of any program or combination of these types of programs no matter what the hype says. However, it is possible to earn some decent rewards here and there. I have personally done so on these types of programs.
Each year I pay for most of Christmas with the rewards I earn. It CAN be done. Consistency in participation is the key along with referrals. Good luck!

I'm listing MyPoints first because it is the one I've been participating in the longest. It's easy. And it's the one that almost solely paid for Christmas for my oldest more than once. You'll receive emails with links to click to claim points. You get a small number of points just for clicking the email to acknowledge you received it. You'll get more points if you purchase through the link or claim the offer whatever it is. I get a good number of points just from reading and clicking without making any purchases. It doesn't take much time, and it adds up. You do have to stay on top of clicking consistently because you do have a limited time to clickthru each email.

The second one is Rakuten (formally known as eBates). I actually use this one more than MyPoints now because you get cashback rather than gift cards. But this one pays out quarterly. So if your goal is to save for Christmas, and you don't mind using gift cards, MyPoints might be the better option. I still click through the MyPoints emails, but I do my purchases through Rakuten… when I remember. That's the other thing, is that with this one you have to remember to click through to register the shopping trip for points. There is a Chrome extension that will pop up to remind you, but I still forget sometimes. Haha.

NEW I just discovered TopCashBack. It looks very similar to Rakuten, but apparently, has higher cashback rates. I'll update my personal experience after I've had a few weeks or so to check it out, but so far the reviews I've found online (one of them being from someone I highly trust) have been very favorable.

Turn your grocery receipts into gift cards with Fetch Rewards. You even earn from your fast food receipts! They work directly with popular brands to bring you savings every day, no matter where you shop. It's super easy. You'll get $2 in points when you sign up with my link and snap your first receipt. I scan everything. Groceries, gas, fast food, etc. You get bonuses for certain products. I'm really liking this one. I think the cashier thinks I'm crazy or don't trust them when I want my receipt for my 89-cent soda, but I just want my 25 points!

Ibotta is a cashback rewards app when you shop for groceries, online purchases, and more! I didn't use it much the first few years after I signed up because it seemed to mostly be name-brand stuff that I never would have bought. But I've started paying attention and using it more. They usually have an "any receipt" option that is great for just keeping your account active. And then I see a lot of "any brand" options on staples such as milk, bread, yogurt, etc. I don't get a lot from this one, but every little bit adds up. And the last two years, they've had a free Thanksgiving meal that includes a few of the traditional basics. They also had some free stuff for Super Bowl this year.

UpVoice was a decent program. The earnings were limited, but they were stable… until they shut down with no notice. It is unfortunate they shut down without notice and without potential payouts for those of us with points available. But it's also an important lesson for those like me who liked to let the points pile up and only withdraw once a year. I guess I better cash out more regularly and just save it. I would advise you to possibly do the same. :-/
If you find a link that doesn't work or discover a listed program that doesn't appear to be legit, please contact me so I can look into them again and remove them if needed.