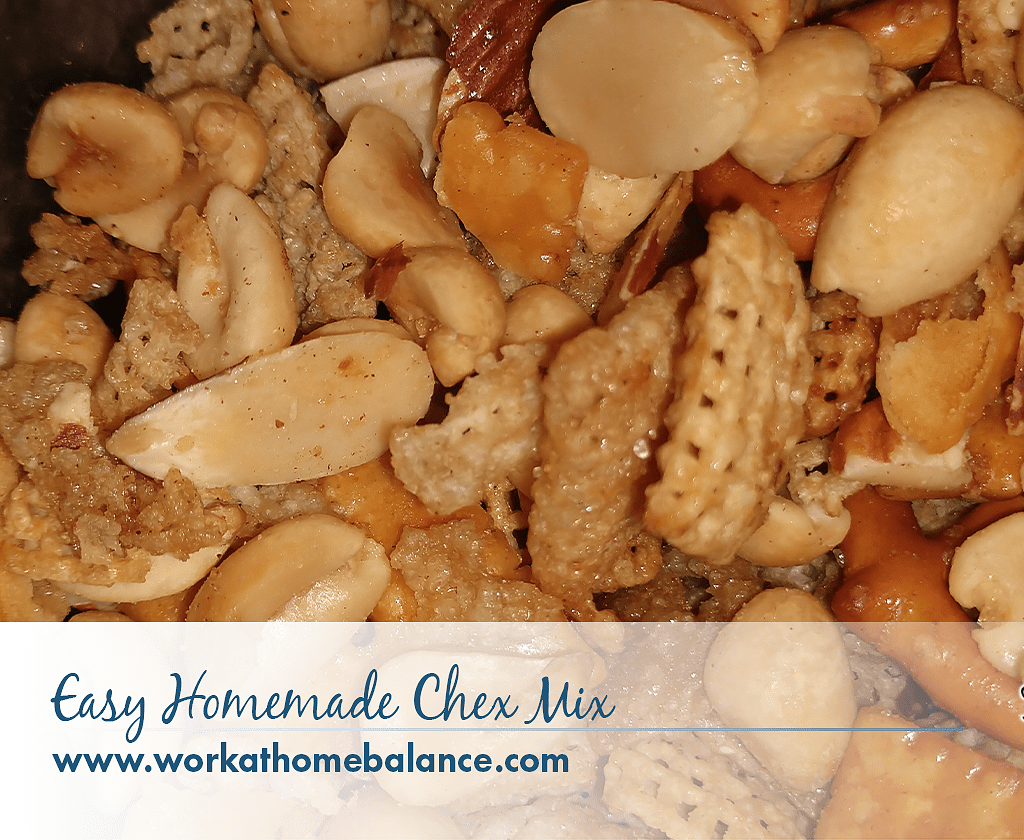 Homemade Chex Mix is super easy to make at home, and since you can tailor the add-ins and seasonings to your preferences, we think it tastes better than store-bought.
I have been making this for years for family get-togethers and for at-home snacks. Especially during the holidays and on the weekends for football Sunday!
I have included a basic version as well as the sweet and spicy alternative we prefer to use. Adjust seasoning measurements to your preference. I often season it differently based on what I have on hand.

Easy Homemade Chex Mix
Ingredients
¼ cup (1 stick) butter (salted or unsalted, your preference)
2 tbsp. Worcestershire sauce
1-2 tsp. seasoned salt
2 tsp. onion powder
2 tsp. garlic powder
¼ cup brown sugar (optional for sweet/spicy version)
½ tsp. cayenne pepper (optional for sweet/spicy version)
2 cups corn cereal
2 cups rice cereal
1 cups pretzels (mini twists or sticks)
1-2 cups cheese snack crackers
1 cups peanuts or mixed nuts
Instructions
Make the Glaze
Melt butter in a microwave-safe dish for 45-60 seconds or until melted.
Whisk Worcestershire sauce, seasoned salt, onion powder, garlic powder, and any of the optional sweet/spicy ingredients into melted butter.
Mix dry ingredients in a large microwave-safe dish.
Mix it All Together
Pour melted butter mixture over top and mix well until thoroughly coated.
Cook the mixture using your preferred method listed below.
Spread the cooked mix out onto a baking sheet with a rim to cool.
Options to Cook
Microwave: Microwave uncovered for 4-6 minutes or until mixture has begun to dry, stirring every 2 minutes
Oven: Bake at 400 degrees for ?? minutes or until mixture has begun to dry, stirring every 5 minutes
Roaster: Same as Oven
Air Fryer: 400 degrees for 3 minutes. Shake the basket and cook another 2 minutes. For optimal cooking, you don't want to cook more than about 2-3 cups of mix at a time.
Notes
If cooking in an air fryer, you might have to cook in batches depending on the size of your air fryer basket and how large of a batch you're making. Mine usualy take 4-5 batches.

Due to differences in air fryers and personal preference, your mix might be finished cooking after 3-4 minutes, or if you like it crunchier (like me!), continue cooking 2-3 minutes longer.
Products I Use for My Easy Homemade Chex Mix