Last night I had to make a decision that is never easy. I had to have our beloved English Springer Spaniel put down. She had diabetes which came on fast and basically destroyed her in a matter of a few months.
It is strange the things you miss when a pet dies. Andrew and I have spent the time since we got home from the vet yesterday evening basically crying over every thing she did that was annoying that we used to complain about.
At dinner time, Andrew cried because she wasn't there to stare at him and try to steal his food.

This morning, I cried because the mess she usually makes in the bathroom wasn't there to clean up.

During the day she used to follow me everywhere I went. Every time I tried to turn around, there she was for me to trip over.
I can't believe how much I'm going to miss all that. It's a small comfort to know she's in Heaven now with my Dad. He loved that dog and she loved him. So it's cool that they are reunited. And to have the hope and knowledge that it's not the end. Just a new beginning.
So we say good-bye to you dear Sassy. Thank you for your never ending love. We will miss you.
Sassy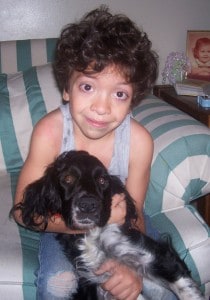 November 2001 to December 2008