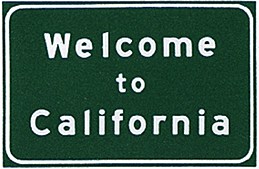 I was born in California. I lived there until the summer before 6th grade. I spent almost every weekend and much of the summer out at Grandma and Grandpa's house up until then. Grandpa had named it Lackalotta Ranch. I guess he felt it was pretty small and insignificant compared to some. I thought it was perfect.
After we moved out of state, Mom would take us back to visit as often as she could. Usually we spent several weeks in the summer and sometimes we'd even get to go for Christmas.
After I had Andrew one of my goals was to make sure he got out there once in a while so he could create his own memories. And of course it was important to me that he got to meet these two people who were so important to me. While I wasn't able to take him as often as I would have liked, I'm proud to say he does indeed have some great memories of the ranch and his great-grandparents.
I remember when I used to go back before, as a child and as an adult, I would feel this overwhelming happiness when we'd pass that "Welcome to California" sign crossing over the state line. I knew I was almost home.
It's different now though. When I see the sign now my eyes well up with tears, and I feel sad knowing Grandma isn't there anymore. I know she hasn't been gone very long and the pain is still fresh, but California just isn't the same without her, and I don't think it ever will be.