I only recommend products I would use myself and all opinions expressed are my own. This post may contain affiliate links that, at no additional cost to you, I may earn a small commission on. Read my full disclosure here.
After planning the menu for the week yesterday, I knew I was going to cook Salisbury Hamburger Helper tonight. Early this afternoon I got the idea to make it in the slow cooker. I did a quick Google search to get an idea if it would work without messing it up. I found a couple sites where people had tried it with success. I had to laugh when I also saw several comments of people criticizing why somebody would even want to make Hamburger Helper in a slow cooker since it's a quick meal anyway. Obviously there are several people out there with the idea,  and I'm guessing they all had their own reasons. You know what they say about everybody having an opinion…
Ahem.
Anyway, I saw one lady wanted to cook it in the slow cooker because she had a meeting at dinner time and she wanted it to be ready when her husband got home with the kids after soccer practice. In my case, I find that I often have time in the morning or afternoon, but by dinner time I've gotten busy and then, even if I know what I'm cooking, I feel rushed to get it cooked at a decent time. I don't like to eat too late and try to have it ready between 5pm and 6pm. This usually requires starting to cook about the time Andrew gets home from school or soon after. Between helping him start on homework and chores, and now with Cub Scouts and Awana taking up two nights of our week, it gets chaotic. Not to mention just wanting to spend some time hearing about his day! So today I thought what if I put the Hamburger Helper in the slow cooker so that I can make dinner when I have time to do it without stress and have it ready at a decent hour.
How to make Hamburger Helper in the Slow Cooker
Brown ground meat.
Combine ingredients according to Hamburger Helper instructions in the slow cooker.
Add half a bag of frozen green beans or favorite vegetable. (Optional)
Stir all together.
Cook on low 3-4 hours.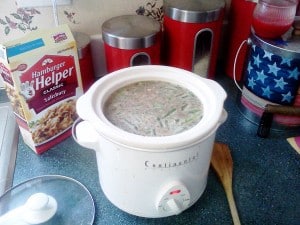 The result? It was edible and tasted pretty good. BUT the noodles were a bit soft and mushy so the texture was different. It ended up being more of a thick soup or stew. I read one comment from somebody that said to cook it on low because on high it would get too dry. I think I'll try it again and cook it on high to see if it keeps it from being mushy. All in all though, it was good enough to use again in similar circumstances.