If you missed why I moved my menu plan to Wednesday click here.
Another week. Another late post. :D
Somehow I don't have any pictures of meals during the last week, but I do have pictures of our trip to Wild Adventures for Terror in the Wild.
This is my son Andrew and my nephew Bo.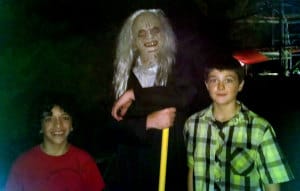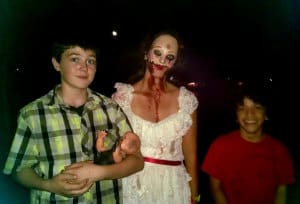 I'm not much of a Halloween person, but I had a really good time. I always enjoy watching the kids have fun. And watching my sister have to drag Andrew out of the corn maze when the chainsaw dude showed up was hilarious. I'm not going to lie.
On another note, this is the only weekly posting I do regularly. If you have ideas of anything you'd like to see, please let me know. Do you like the foodie stuff? Want to see more parenting, homeschooling or fibromyalgia? Let me know!
Now on to this week's …
Wednesday: Oven Baked BBQ Chicken, Green Beans with Potatoes, Cornbread
Thursday: Hamburgers
Friday: Since we're eating out tomorrow for my birthday, I'll go ahead and make sandwiches tonight. I'm not sure yet, but I'll either do Marlboro Man or Fried Round Steak Sandwiches, both of which are courtesy of The Pioneer Woman.
Saturday: It's my Birthday! We're going out to eat…as soon as I decide where. :D
Sunday: Chicken 'n Dumplings
Monday: Rice and Hamburger Gravy with green beans
Tuesday: Easy Enchiladas {maybe for real this time…BWAHAHAHA}