Yesterday's Wordless Wednesday photo at first glance appears to be a photo of a couple of people sitting on a couch. Well, it is. That is me on the far right, my friend Angelina in the middle, and then my friend Cecile on the far left. The reason I chose this photo is that two years ago yesterday Cecile died in the crash of Flight 5191.
Cecile, Angelina, and I were best friends when I lived in Georgia. We worked together at Software Etc, a computer store in the mall. We partied on the weekend and danced till morning. I moved away in 2001. We all kept touch via email for a while but eventually lost touch.
On December 24, 2007, Angelina found me on MySpace. I was so excited to reconnect with her. I was checking out her friend list to see if there was anybody on there I knew. I saw Cecile and was equally excited to reconnect with her. I went to her page and immediately sensed something was horribly wrong. Her comments list was filled with "I miss you" type comments. And these weren't "I miss you cuz you moved" comments. These were painful, hurting comments.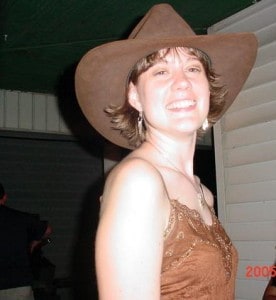 It took me a good hour of searching her comments to piece together what had happened, but eventually, I figured it out. You can read about Flight 5191 here. Cecile was on the flight on her way to deliver supplies to the still-recovering Hurricane Katrina area.
I spent the next couple of hours laying in bed crying. Andrew laid next to me and just stroked my hair. Here I thought I was going to reconnect with a friend, and instead, I find out she was taken from this life way too early. I could tell by the sign-in date, that somebody was keeping up with her page, so I sent a friend's request. Later that day, I got the approval and a message from her mom.
I visit her page regularly, just to remember. As I sit here now, I'm crying. This post has probably taken longer to write than any other just because I have to keep stopping to clear my eyes.
To Cecile: I wish we hadn't lost touch. I wish I had found you again before this happened. I wish I had known you were in Colorado a few short months before. I could have met up with you there. Of course, I wouldn't have been climbing no mountains, but I would have been happily waiting for you at the bottom to chat. LOL I love you, and I miss you, and I look forward to seeing you again someday.

To "Mom", "Dad", Brian and all those who loved her: I think about you all the time. I know how hard this must be. I hope if you're ever in Utah, you'll let me know so we can visit.
Here's an article about the memorial that was put up in memory of Cecile and the other people who lost their lives that day.