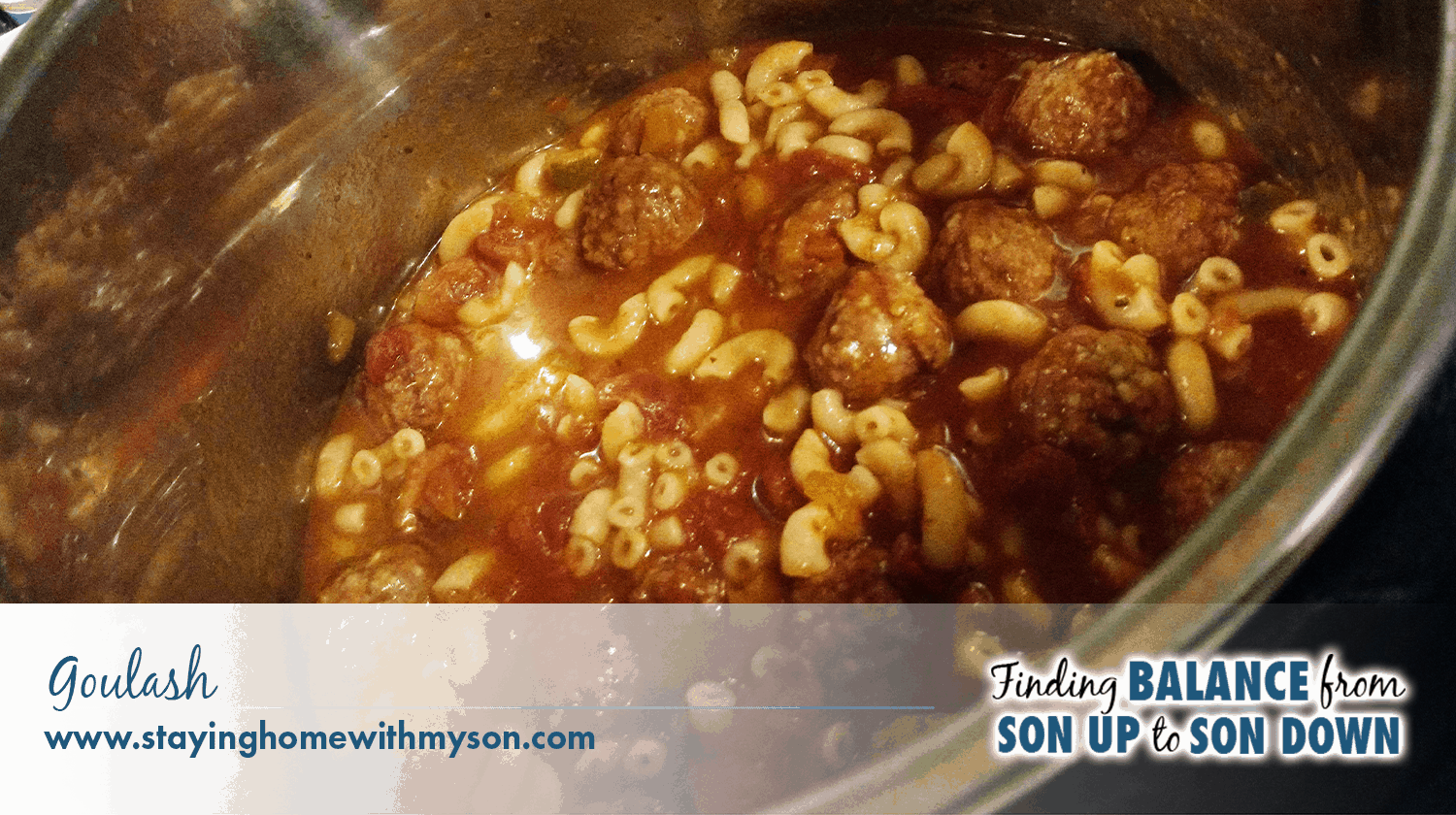 According to Wikipedia…
Hungarian goulash is a stew of meat and vegetables usually seasoned with paprika and other spices. Originating from medieval Hungary, goulash is a popular meal predominantly eaten in Central Europe but also in other parts of Europe. Its origin traces back to the 9th century to stews eaten by Hungarian shepherds.

American goulash is an American comfort food dish, similar to American chop suey. American goulash is usually referred to in the midwestern and southern United States as simply "goulash".
I grew up calling just about anything that was made with elbow macaroni and a tomato sauce goulash. Sometimes I use spaghetti sauce, sometimes diced tomatoes, sometimes tomato soup, and sometimes a combination of any of the three. I usually add onions and bell peppers, sometimes fresh and sometimes a frozen blend that I buy at the grocery store. There's two that I buy to keep on hand regularly. One is called "Seasoning Blend" and is a fajita pepper and onions mix. I add frozen corn if I have it and often green beans, canned or frozen. And lastly, I add several seasonings depending on my mood and what I have on hand. I rarely measure and just sprinkle liberally spices such as oregano, Italian seasoning, garlic and onion powders, and salt and pepper.
I've always done this in a pot on the stove. Making the pasta and sauce separately. Drain the pasta and mix together. Since purchasing my Instant Pot during Amazon's Black Friday sale, I've used it for goulash a fairly decent amount of times. No matter which variation I use, it comes out great.
Note: The picture shows meatballs. I happened to have them on hand from a buy one get one sale our local grocery store had right before the Super Bowl. I don't normally have those on hand and usually, just use ground beef.

Goulash
Ingredients
2 cups elbow macaroni
2 cups water or chicken broth
1 pound ground beef, cooked
OPTIONAL: bag frozen meatballs
1 cup diced or chopped onions and bell pepper
OPTIONAL: corn and/or green beans
2 cups spaghetti sauce OR
2 cans diced tomatoes OR
2 cans tomato soup OR
any variation of the above to make approximately 2 cups of "sauce"
spices such as oregano, Italian seasoning, garlic powder, onion powder, salt and pepper
Instructions
Layer in Instant Pot: ground beef, uncooked pasta, water or broth, veggies, sauce, spices.
Manual High Pressure for 6-8 minutes depending on how soft you want your pasta.
Natural Release
Carefully open, stir, and serve.