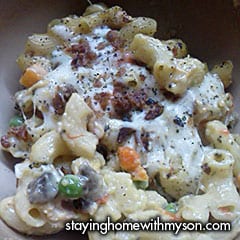 Today's attempt at a meal that would feed everybody was a huge success. I really thought at least half of the kids would complain, but they ALL asked for seconds, including the pickiest of the picky! I'm still in shock.
Quick and Easy Chicken Casserole with Cheese & Bacon Bits
Ingredients
1 pkg elbow macaroni
½ pkg frozen peas & carrots
1 T salt
1 T oil
½ stick butter
1 can cream of chicken & mushroom soup
2 cans Chicken à la King
½ cup parmesan
1 T garlic powder
1 T onion powder
3 T chicken flavored soup base
salt & pepper to taste
shredded mozarella
real bacon bits
Instructions
Bring water to a boil.
Add frozen peas and carrots to boiling water.
Bring to boil again.
Add macaroni and cook according to package al dente directions. I add a bit of salt and oil to the water before boiling as well.
Drain.
Pre-heat oven to 350 degrees.
Using the same pan from the macaroni, add the butter, and salt & pepper and bring to boil mixing thoroughly.
Add macaroni back to the pan and mix.
Pour sauce covered macaroni into a baking dish.
Cover with mozarella and then bacon bits.
Cook in 350 degree oven for 20 minutes.