Andrew had his school pictures taken a few weeks ago. Unfortunately, Andrew has issues smiling because he is so self-conscious due to his lack of teeth, both on top and bottom. So I end up with goofy photos more than anything. He's trying so hard not to smile, he ends up being goofy. It frustrates me because before the teeth went missing, he took the most beautiful photos.
So this year, I went with him to school on picture day because I wanted to make sure his hair looked good, and that he didn't be goofy. Too bad for me, the photographer this particular day was one of those get them in, get them out kind of guys.
Fast forward to this week. Andrew was out sick two or three days this week. I lost count. Well apparently pictures came in one of the days he was gone and make up pictures were on Friday. Thursday was one of the days he was absent. So Friday morning, right after he leaves on the bus, I get a voicemail from his teacher. She's letting me know pictures came in and if I have a second I might want to run down and take a look at them because today is the makeup day. Ok, if the teacher calls and says today is makeup day and you might want to look at these pictures just in case, chances are she knows something I as of yet do not. Of course, Andrew has already left for school and it was not one of his better hair days and obviously too late to do anything about it. So being the paranoid mom I am, I ran down to the school, and I ended up with this: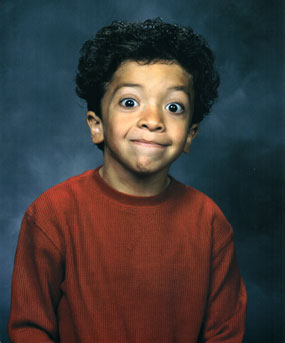 At least his hair looks good…right???
So what did this picky mom do? She went down and talked to the makeup photographers of course. I asked them if I sent him for makeup pictures, and I ended up liking this one better, could I keep them instead? I politely explained that it was not the greatest of hair days and if I was going to end up with a goofy looking picture, I'd at least rather have the one where his hair looked good. After they were done laughing with (not at) me, they told me I was welcome to stay and make sure I liked the new ones. If we couldn't get a decent smile out of him, then I could take the first package home. Sounds good to me!
I went back to the classroom and stuck his head under the sink and finger-combed his hair as good as I possibly could. We DID get a decent photo out of him, and I look forward to sharing that with you in a couple weeks. And on top of all that, I got to keep the first set even though normally you're supposed to turn them in because the owner happened to be standing there and he also owns the print shop the school printed their yearbook through last year, which I happened to be in charge of. So he recognized me and told me I could keep them. Who knew working on an elementary school yearbook for the PTA would have it's perks. ;)