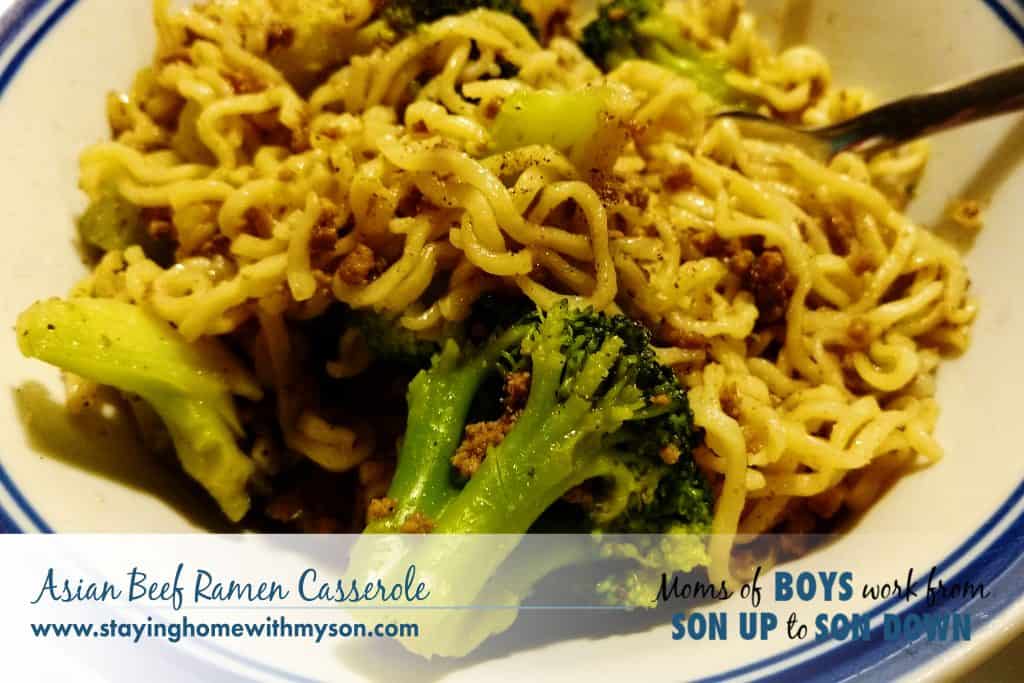 Last night I had wanted to make an Asian Beef Casserole I found online because I had most of the ingredients. It came out great, but I made it with several differences according to my pantry. I'm sharing that with you today.
Sidenote: On my original post I shared the link to the recipe I found and based it on, but that link is no longer working.
Even though neither care for cauliflower, both Andrew and my boyfriend had seconds including eating all their cauliflower. Yay! We have another winner in the meal rotation!
Asian Beef Ramen Casserole
Ingredients
1 lb ground beef
1 T garlic powder
1 T onion powder
2 T ground ginger
2 T Worcestershire Sauce
2 cups water
3 packages Beef Flavor Ramen
16 oz bag of California Blend vegetables
Instructions
Brown meat until no longer pink. Remove meat from pan, and pour off drippings. Season meat with one seasoning packet from noodles, garlic powder, onion powder, 1 T ground ginger, Slap Ya Mama Cajun Seasoning Hot Blend, and Worcestershire Sauce. Set aside.
In same pan, add 2 cups water. Bring to a boil. Add noodles (broken up), frozen California Blend vegetables, other T ground ginger, remaining seasoning packets and Huy Fong, Sriracha Hot Chili Sauce. Cover. Simmer 3-5 minutes, or until noodles are tender, stirring occasionally. Return meat to skillet; stir and serve.
Notes
The original recipe didn't specify order of adding ingredients, but I found that not all the noodles cooked properly. Next time I'll put the noodles in first so that they are all submersed in the water, and then put the vegetables on top of them.